Shower heads come in different types to cater to different people's needs, preferences, and choices. If you're looking to purchase a shower head with an aim to revolutionalize your shower experience, you must be aware of its various types to make an informed decision.
That's where this guide comes into play. It will walk you through each kind of shower head, from rain shower heads to handheld shower heads and to shower panels; we have got your covered.
So, without further ado, let's know about amazing types of shower heads.
15 Different Types of Shower Heads To Help You Choose The Best One
When upgrading your bathroom, the shower head is the first thing that comes to our attention. It's an integral part of the shower and should be selected carefully according to needs and preferences. A wrong choice can drastically impact your shower experience.
To help you make an informed decision, we have discussed 15 different types of shower heads which you can use to take showering to the next level.
Wall Mounted or Fixed Shower Head
This is the most common type of shower head, which can be found in every other house. The wall-mounted shower head is fixed on the wall and remains static in one position.
The modern fixed shower head can be adjusted in different directions as they have a swivel ball and can have various water pressure settings.
Installing the wall-mounted shower head is simple; you just need to roll it on the shower arm that comes out of the wall. They are the least expensive and come in multiple sizes and finishes.
Handheld Shower Head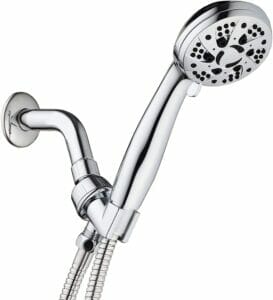 As the name applies, this type of shower head is operated using your hands. So you got full control over them. Handheld shower heads are attached to a hose that is connected to the faucet for water supply.
They can be moved and angled in different directions, giving you ultimate versatility and comfort during the shower. They are great for rinsing off pets and children, targeting sore muscles, and washing the area around your shower.
The best part is that they come with various spray settings, allowing you to take different showers depending on your mood. As far as the installation is concerned, handheld shower heads are usually easy to install if they accommodate your existing plumbing system.
All in all, handheld shower heads are best if you want to take full control of your showering experience.
You May Also Like: Best Handheld Shower Heads With On-Off Switch | Best Handheld Shower Head With Extra Long Hose
Rain Shower Heads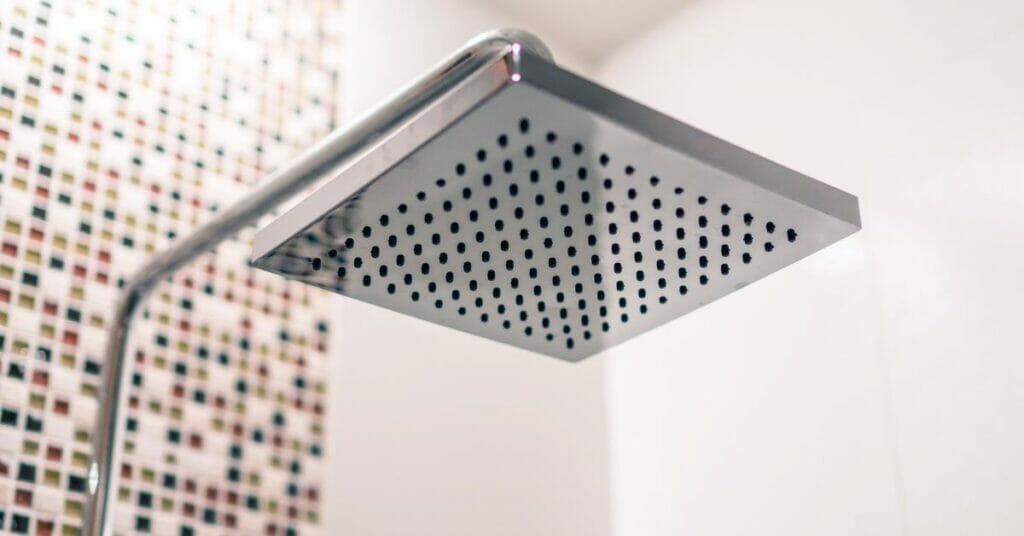 If you want to bring a spa-like showering experience to your home, you should definitely consider purchasing rain shower heads. Rain shower heads come with wider heads compared to other shower heads. The wide head has many nozzles that sprinkle water in little droplets to give you a "dancing on the rain" shower experience.
These showerheads are luxurious as they are a bit expensive and have different construction than other shower heads. They come in different sizes and finishes to cater to the needs and choices of people.
Secondly, these showerheads are also the best to conserve water since they gradually exert water through many nozzles. The best part is that even though they conserve water, they never slow down the water pressure instead keep it as high as it is.
Lastly, rain shower heads are the best choice to spruce up your bathroom and give you the comfortable showering experience you have been craving for.
Dual Shower Head
The showerhead that can work as a handheld or fixed shower head is called a dual showerhead. Dual shower heads let you enjoy the experience of both handheld and dual shower heads in one.
These showerheads have different spray settings to spruce up your showering experience and an adjustable bracket that lets you mold the showerhead in any direction.
Dual shower heads are considered best for couples since they can accommodate the showering needs of two people at once. Lastly, a dual showerhead is the best choice if you want to enjoy the showering experience of both handheld and overhead shower heads in one.
High-Pressure Shower Head
A high-Pressure shower head, as the name suggests, is a kind of shower head that provides you with an immersive high-pressure shower. Not only that, they can be adjusted to different spray settings from high to low, depending on your choice.
If you want to add a touch of versatility to your shower, then a high-pressure shower head is what you need. No matter how low your home water pressure is, these showerheads have the features to make it high for you.
So if you're tired of low-flow water from your home, you should consider installing these shower heads to enjoy a rejuvenated and immersive water pressure showering experience.
Low Flow Shower Head
If you think low-flow shower heads provide low water pressure, you're wrong because they're meant to use less water and provide maximum output through it. Yes, you heard it right.
If you want to save on your water bills and conserve water pressure while showering, low-flow shower heads are worth considering. They have a special technology that consumes less water but still provides you with an enjoyable shower.
These showerheads come with different water pressure, from massage to jet water pressure; you got everything. Moreover, they are also affordable, so you don't have to break your bank to purchase them.
Filtered or Ionic Shower Head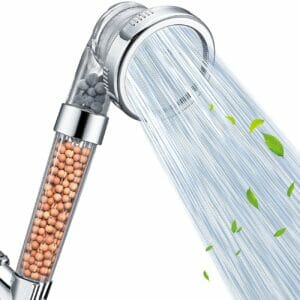 Hard water contains chemicals that can be bad for the overall health of your skin. To counter that problem, filtered shower heads come into play. If your home has hard water, a filter shower head will make it soft for you.
They have special technology that filters hard water in seconds through various filtration processes. Filtered or Ionic shower heads come in various styles, ranging from handheld to overhead. However, the filter cartridge in these shower heads needs to be replaced periodically, depending on your usage.
As an added advantage, these showerheads have different spray settings and flavors that add aroma to the water.
Related: Best Ionic Shower Heads
Bluetooth Shower Head
Wanna have fun while showering? Bluetooth shower head allows you to listen to your favorite music, podcasts, and urgent calls without heading out of the shower.
These shower heads come with an attached Bluetooth speaker that can be connected to your phone to listen to your audio while showering. The best part is that they have an LED light to set your mood and create an immersive experience.
Bluetooth shower heads are the best choice for kids that crave fun in every other thing and have a hard time in the shower. Just set your favorite music for them, and it will do wonders for you.
Related: Best Bluetooth Shower Heads
Shower Panels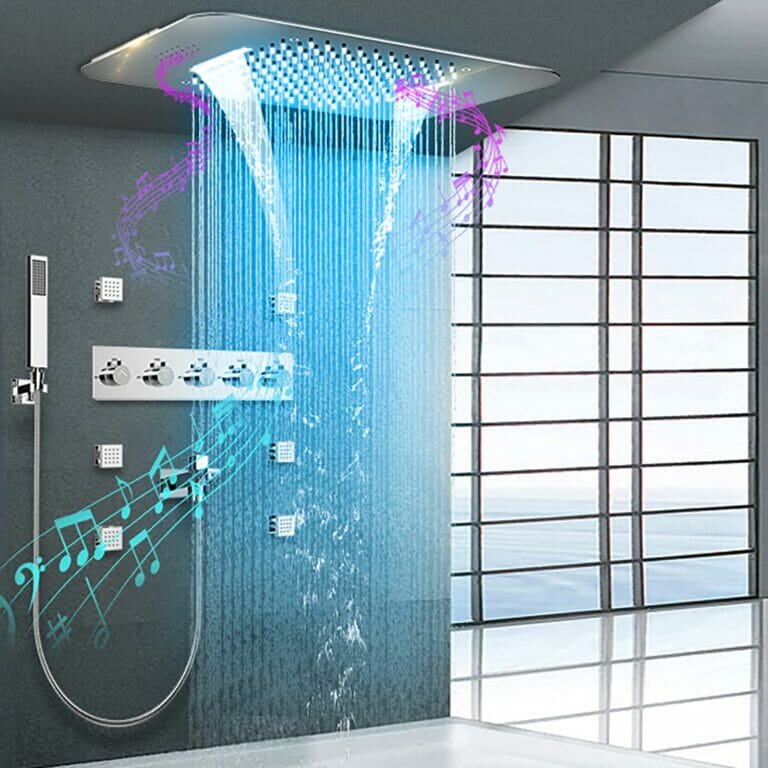 Shower Panels, as the name suggests, give you the experience of multiple shower heads and exciting features in one convenient system. All the features can be operated through one panel, making it a convenient option.
Usually, it includes handheld shower heads, body jets, rainfall shower heads, etc. Despite that, many also come with temperature control systems to adjust water temperature according to your liking.
When talking about design, they have a luxury built that will take your bathroom look to the moon. Moreover, they come in various shapes and options for your shower experience. All in all, shower panels are best if you want to enjoy the experience of different shower heads.
Regarding price, they are the most expensive compared to other types discussed in this guide. The reason is that they have many features combined into their system to give you a fantastic spa-like shower experience.
Lastly, if you want to enjoy something that takes you out of the world, then shower panels are what you need.
Related: How To Clean A Shower Panel
LED Shower Heads
Shower heads that come integrated with a lighting system to create ambiance while showering are called LED shower heads. These shower heads light up your shower with their excellent LED light powered by a battery.
The LED light will change colors and brightness, turning your black-and-white showers into a colorful experience. Talking about design, they are similar to standard shower heads, but one thing that sets them apart from others is the LED light.
The LED light is designed to be low maintenance and long-lasting, making it durable. Lastly, if you want to add ambiance and relaxation to your bathroom, then an LED shower head is what you need.
Kids Shower Head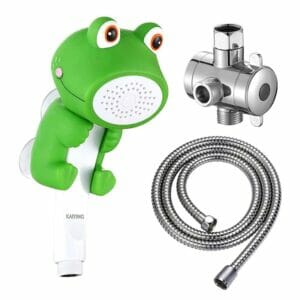 Kids' shower heads differ from standard shower heads in build, design, and aesthetics. They are small in size, lightweight, and have a specific cartoon-shaped design to attract kids or toddlers.
These shower heads usually come with a suction technology that socks the water from the tub and then sprays it. They are cheaper compared to others and an excellent choice for kids to have some entertainment while showering.
Related: Best Shower Head For Kids
Outdoor Camp Shower Head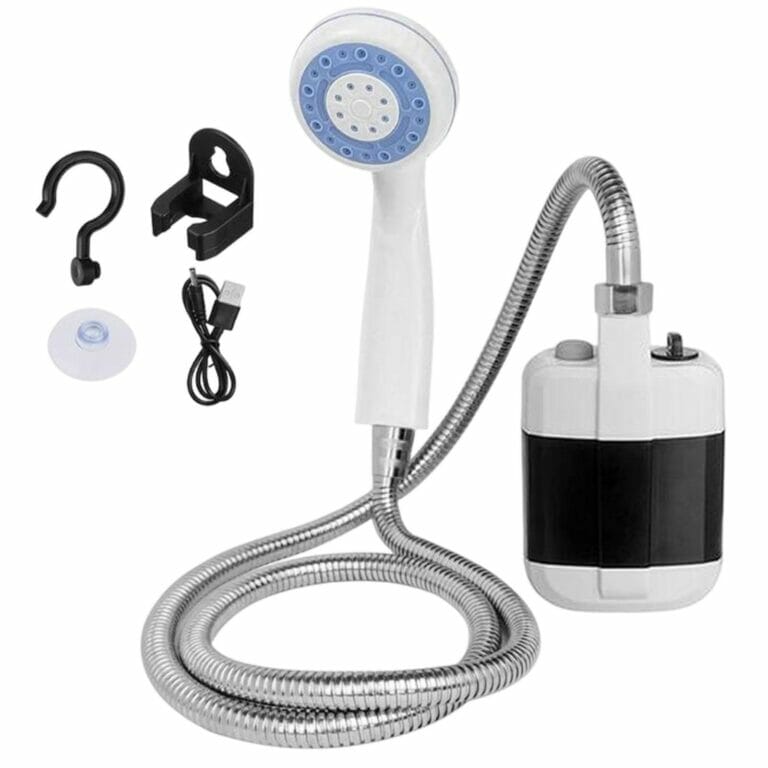 Wanna have the comfort of taking a shower outside while traveling, backpacking, camping, or whatever, the outdoor camp shower head is here to fulfill your desire.
These showerheads are lightweight and portable, which makes them easy to carry and fits perfectly inside a backpack without taking up much space. Moreover, they come in various shapes, sizes, or designs, allowing you to choose the one that meets your needs.
Before purchasing an outdoor camp shower, there are some things you should look for, like water pressure and a water filter. These two things are crucial to have the best and safest showering experience outside.
As an added advantage, some models also offer additional features, such as USB rechargeable batteries and different spray settings. Lastly, these shower heads are an excellent choice to provide you with the feasibility of taking comfortable showers outside.
Hydro Jet Shower Head
Do you love taking intense showers? If yes! Hydro jet shower head is what you need. Equipped with cutting-edge technology to spray water with maximum pressure, these shower heads are the best to give you the showering experience you want.
High-pressure shower heads are best for taking massage-like showers with maximum speed at different angles. The primary difference between other shower heads and hydro jet shower heads is that they have multiple jets that can be adjusted to fit your desired water pressure.
The hydro-jet shower heads are best to conserve water, saving you a lot on water bills. Talking about other benefits, it's best for people with sore muscles and aches as its intense water pressure will help them give the much-needed massage.
So, if you're looking for a shower head that does it all, then a hydro jet should be your choice to revitalize your showering experience.
Navy Shower Head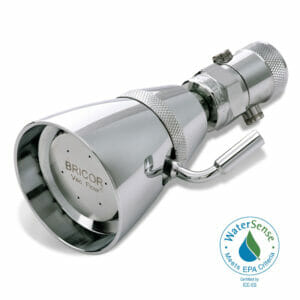 The navy shower head delivers water at maximum pressure while being installed lower than the traditional shower head. It has a unique shape that provides you with maximum coverage and an excellent appeal to your eyes.
As it delivers intense steam of water, you can be sure that it saves water, ultimately resulting in less water bills. This showerhead is different from others because it is installed slightly lower than traditional shower heads.
For tall people, this showerhead is heaven as it provides maximum coverage as possible, helping to eliminate any missed spots. Lastly, they are easy to use and install, so it would be your dream choice if you want to elevate your showering experience.
Others (Shower Head For Tall People, Seniors, and Handicapped, etc)
Contrary to the types of showerheads discussed above, some other showerheads are designed to cater to the needs of specific people, such as tall, seniors, and handicapped.
Talking about tall people's shower heads first, they usually have an extended shower arm that allows tall people to mold the shower head to their desired choice. Similarly, seniors and handicapped shower heads are made to provide as much safe showering as possible to these people.
For instance, they come with a wrist wand that prevents the dropping of the shower head. Moreover, they're lightweight and have an ergonomic design that won't strain your hand if you pick for an extended period of time.
So, if you want shower heads for people like tall, seniors, and handicapped, you can be assured that you can find them easily like the others.
What Are Different Types Of Shower Mounts?
Before buying the best shower head, you must know different types of shower mounts to have an understanding of which one would be best for you.
Shower Mount can be divided into three main types, including ceiling mount, wall mount, and bar mount. We will discuss each one of them briefly in the following content.
Let's get started.
Ceiling Mount
Ceiling mount, as the name applies, is the type of mount that lets you install a shower head over the ceiling of the bathroom. Most rain shower heads have this type of mount since they are large and meant to provide you rainfall showering experience.
The installation process involves attaching the mount to the ceiling with screws and then mounting a shower head on it. Ceiling mount shower heads are best if you have a high bathroom ceiling and want to save some space and give it an appealing look.
Wall Mount
The most common type of shower head mount is the wall mount. Using this type of mount, the showerhead can be installed on a tile wall or any flat surface. Talking about installation, it involves drilling the holes in the wall and then installing a mount with the screws.
As a side note, an extension arm is required when mounting a shower head on the wall mount to provide you maximum coverage while showering.
Bar Mount
The last type of shower head mount is the bar mount. Bar Mount is considered best for those who don't want the showerhead to be mounted directly on the wall or the ceiling but want to secure some extra space in the bathroom.
This type of mount is attached to the bar that sits between two walls or overheads and can be adjusted to the place of your liking. If you want to secure some space and want to enjoy a shower according to your choice, a bar mount shower head is what you need.
Bottom Line
Shower heads come in different types to support the choices and needs of different people.Fortunately this guide has briefly explained a total of 15 different types of shower heads so you can choose the best one from them without breaking a sweat.
Let us know which type of shower head is your favorite in the comment section below. We would love to hear your insights into it.
Until Next Time