A shower is a place where one of our comfiest times is spent. But low-quality, lackluster shower heads often turn into a nightmare.
If you're in the same situation, let me say your struggle is going to end with the Best High Pressure Handheld Shower Heads.
These shower heads will give you that invigorating blast of water you've been craving and make you feel alive and ready to conquer the day.
This guide will explore the 7 best high pressure handheld shower heads on the market and help you choose the best one or why they should be your preference.
7 Best Shower Heads That Increase Water Pressure
1. Moen Engage Magnetix 26100EP High-Pressure Shower Head
This showerhead is a beast of what you imagine a high-pressure handheld showerhead would be. First and foremost, Its sleek and modern chrome finish makes it an excellent addition to bathroom decor.
But beyond looks, this showerhead offers a luxurious shower experience for everyone in the family, from kids to pets to adults.
Another cool feature is the magnetic dock, making it easy to store and retrieve. This means you won't have to deal with a bulky showerhead taking up space in your bathroom.
Plus, it's eco-friendly, so you'll save money on your water bill while enjoying a wide coverage area that ensures a thorough cleanse.
But the six-function combination spray sets this showerhead apart, which offers a personalized shower experience.
Whether you want a full-body spray with the Downpour mode or a quick rinse with the Rinse mode, this showerhead has got you covered.
Talking about installation, it's a piece of cake, and you can do it yourself as it accommodates the existing shower plumbing system.
Specifications
Spray Settings: 6
Flow rate: 2.5 GPM
Pros
Luxurious shower experience
Versatile for all family members
Highly reflective chrome finish for a sleek look
Six-function combination spray for a personalized experience
Eco-friendly and water-saving
Cons
It's all clear from the disadvantages
2. AquaDance High Pressure Chrome Face Handheld Shower Head
If you're in the market for a top-quality showerhead with every feature, then the AquaDance showerhead is the one for you. Don't let its size fool you – it may look small, but its 3.5-inch chrome face is the perfect size for a handheld showerhead.
But wait, there's more! This little guy packs a punch with its six settings, including power rain, power mist, rain mist, pulsating massage, rain massage, and even a water-saving pause mode for those moments when you need to conserve water.
And switching between these settings is a breeze thanks to the ergonomic grip handle and three-zone click-lever dial.
Moreover, cleaning this showerhead is a piece of cake with its rub-clean jets. Besides, If you need to use it as an overhead showerhead, no worries – it comes with a wall bracket that can be easily adjusted to your liking.
Plus, the 5-foot flexible stainless steel shower hose means you can move around as you please, and the brass hose nuts can be tightened by hand, making the setup a cinch.
Specifications
Spray Settings: 6
Flow rate: 2.5 GPM
Pros
It has Six different spray settings
It comes with an Ergonomic grip handle
Featuring Rub-clean jets for easy cleaning
The Wall bracket for hands-free use
It is Easy to install with a tool-free setup
Cons
Pulling the hose too hard can lead to leaks.
3. Delta Faucet 5-Spray In2ition Dual Shower Head
If you are tired of your outdated showerhead, that doesn't quite do the trick. This Delta Best High-Pressure Handheld Shower Head will be the pick of your life.
It has a unique wave pattern, and more extensive water droplets make you feel like you're showering in the lap of luxury. Moreover, with its 2-in-1 Dual Shower Head capability, you can easily switch between the full body spray and massaging spray features.
But what really sets this showerhead apart is its H2Okinetic Power Drench Spray technology. This innovative feature creates a wave pattern that intensifies the showering experience, making switching between the entire body and massaging spray features easy.
Plus, the magnetic docking system ensures that the shower head stays securely docked so that you can enjoy your shower without any interruptions.
So why settle for a mediocre shower when you can have the best? Upgrade to the Delta Best High-Pressure Handheld Shower Head today!
Specifications
Spray Settings: 5
Flow rate: 2 GPM
Pros
It has Dual showerhead capability.
It comes with H2Okinetic Power Drench Spray technology.
The Magnetic docking system is an added advantage
Enhanced showering experience with larger water droplets.
Easy switching between full body spray and massaging spray.
Cons
It's essential to handle the product with care
4. Ana Bath 5-Inch High Pressure LARGE Dual Shower Head
The Ana High Pressure Handheld Shower Head is a fantastic addition to any household seeking a luxurious shower experience. It offers a variety of spray settings, including Rain, Massage, Massage Rain Mix, Oxygenated Bubble, and more.
This means you can choose the perfect setting for your mood, making your shower more enjoyable than ever before.
Designed with families in mind, this showerhead boasts a large 5″ (12.7cm) handheld showerhead that is perfect for simultaneously caring for all your needs.
The easy-to-use ergonomic grip handle and click lever dial make operating a breeze. Plus, it's a cinch to clean, so you won't have to spend hours scrubbing away grime.
One of the best features of this showerhead is its angle-adjustable brass ball joint. It ensures a secure connection, so you won't have to worry about the shower head coming loose while using it.
Let's not forget the versatile metal hose. You can use it to wash your pets, bathe your children, or clean your bathtub.
Who knew a showerhead could be so multi-functional? If you want to take your shower game to the next level, this handheld showerhead is the way to go.
Specifications
Spray Settings: 5
Flow rate: 2 GPM
Pros
It comes with 5 different spray settings
The Ergonomic grip handle is an added advantage
It is an easy-to-clean metal hose
Angle-adjustable brass ball joint
Large 5 inches handheld showerhead for families
Cons
5. Delta Faucet 7-Spray Touch-Clean Hand Held Shower Head
This Delta Faucet handheld shower is a top contender for those seeking a high-quality showerhead with impressive features. With 7 high-pressure spray settings, you're guaranteed to find the perfect pressure to suit your mood, whether you want to feel invigorated or relaxed.
But what distinguishes this showerhead is its high-pressure jets that work wonders in massaging the body. This will put an end to aches and pains with the ability to aim the water directly at sore muscles.
Besides, It comes with 7 water jet options, including full body spray, massaging spray, and even an energy-saving spray; you'll never get bored of your shower routine.
How can we forget the easy-clean feature? So you won't need to bust out the chemicals to keep your shower head in tip-top shape. Just give it a quick wipe down with your finger, and voila! You're done.
Finally, the stretchable showerhead with a handheld hose that's 60 inches long (extendable to 72 inches) is a convenient bonus, perfect for those who want extra flexibility in their shower routine.
Specifications
Spray Settings: 7
Flow rate: 2.5 GPM
Pros
It's made of high-quality materials for durability
It comes with a whopping 7 high-pressure spray settings
Easy-clean feature for maintenance
Massages sore muscles effectively
Stretchable showerhead with a 60-72 inch hose
Cons
It requires high water pressure to work well
6. Niagara Conservation Earth Spa 3-Spray Handheld Showerhead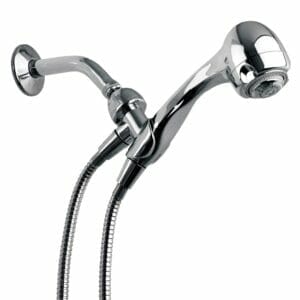 Suppose you're looking to save on your water and electricity bills while still enjoying a relaxing and immersive shower experience. In that case, the Earth Spa from Niagara Conservation is definitely worth considering.
This showerhead uses clever technology to reduce water consumption by up to 20%, making it an eco-friendly and cost-effective option for any household. It uses less water with a GPM of only 2.0 than other showerheads offering 2.5 GPM or higher.
However, you won't have to worry about losing water pressure, as the Earth Spa's 9 nozzles ensure that the water flow remains solid and consistent, delivering an immersive shower experience that rivals those with higher GPM rates.
One of the most impressive features of the Earth Spa is its ability to save on electricity bills. By not aerating the water droplets, less heat is lost to the air, so your water heater won't have to work as hard to maintain the desired temperature.
Furthermore, It also boasts a sleek and stylish design with an ergonomic handle and a chrome finish. Lastly, the three rejuvenating spray settings and the 72-inch-long hose made of stainless steel provide flexibility and ease of use.
Specifications
Spray Settings: 3
Flow rate: 2 GPM
Pros
Saves up to 20% on water and electricity bills.
Lower GPM of 2.0 for eco-friendly use.
9 nozzles ensure strong and consistent water flow.
It saves electricity by not aerating water droplets.
Sleek design with ergonomic handle and chrome finish.
Cons
It contains hard plastic construction
7. HO2ME High Pressure Handheld Shower Head
Summing up our list is HO2ME High Pressure Handheld Shower Head. This device is perfect for easing muscle pain and refreshing your body after a workout.
It is built to last with high-strength ABS engineering-grade plastic that resists cracking and splitting. And the stainless steel hose and solid brass connection fittings are designed to withstand years of heavy usage. You won't have to worry about buying another showerhead anytime soon.
Moreover, the HO2ME Best High-Pressure Handheld Shower Head has a water flow regulator and adjustable shower bracket, allowing you to increase or decrease the water pressure according to your preferences. Isn't that awesome, right?
Plus, it has an extra hose gasket that ensures no leaks occur during use. And you get two extra rubber nozzles, so there's no need to worry about buying additional parts later.
Specifications
Spray Settings: 6
Flow rate: 2.5 GPM
Pros
Increases water pressure
Relieves muscle pain
It is Durable and long-lasting
Adjustable water flow
It Comes with an extra hose gasket and rubber nozzles.
Cons
It is made of plastic but works well
Things To Look For When Purchasing High Pressure Handheld Shower Head
A high-pressure handheld shower head will be an excellent addition to your bathroom as it can give you a powerful showering experience and even help save water. However, there are a few things that you need to look for when purchasing one of these shower heads.
Here we have mentioned some factors worth considering before making a final call.
Spray Settings
When choosing a showerhead, it's crucial to think about what kind of spray settings you prefer. Many shower heads have various options, like pulsating, massage, and streaming. If you often struggle with back or shoulder issues, a shower head offering more than one setting might be worth considering.
Now, let's talk about the spray setting of the High Pressure Handheld Shower Head. It must provide a strong enough spray to create a jet stream that covers your entire body.
Plus, it should have an adjustable feature, allowing you to customize the water pressure by moving closer or farther away from the shower head. This way, you can enjoy a shower experience tailored to your liking.
Ease of Use
Convenience is key. So, ensure the shower head is designed to make it effortless for anyone, especially those with arthritis or disabilities who may find it difficult to handle larger or heavier shower heads.
Additionally, the product must come with clear and easy-to-follow instructions. This ensures everyone can set it up and operate properly without any confusion or risk of accidents. After all, we want everyone to enjoy a safe and satisfying shower experience at home.
Construction Material
The material of the showerhead matters. Opt for one made of stainless steel or other corrosion-resistant materials like plastic or metal. This way, you can trust that your shower head will withstand the test of time without succumbing to rust or wear.
But that's not all. Another aspect that can significantly enhance your showering experience is including flexible joints.
Why is that important? It allows you to bend and twist the shower head in different directions without worrying about snapping or breaking.
So, find a showerhead that allows you to adjust it however you like, ensuring a gratifying and customizable showering experience.
Easy To Install
Make sure the shower head is easy to install and compatible with your faucet, guaranteeing a seamless and hassle-free setup. Moreover, it should offer effortless removal from the faucet whenever necessary, allowing flexibility and convenience.
Hose Length
When considering the hose length for your new handheld shower head, it's crucial to strike the right balance. You want to ensure the hose isn't excessively long or short, as both extremes can be inconvenient.
Having a too-long hose may result in water spraying all over the place, creating a messy situation when you least expect it. On the other hand, a hose that is too short might restrict your movement and make it difficult to reach desired areas.
To avoid these issues, opt for a hose length that provides adequate reach and maneuverability without unnecessary excess.
5 Amazing Benefits Of Best High Pressure Handheld Shower Heads
High pressure handheld shower heads have many fantastic benefits that can really level up your showering experience. Let's dive into some of these perks:
1. Energizing Showers
Picture this—water flowing from the shower head with solid pressure, giving you an invigorating and refreshing shower.
That's precisely what high-pressure handheld shower heads deliver! The powerful spray helps rinse away all the shampoo, conditioner, and soap, leaving you feeling super refreshed and ready to tackle the day.
2. Efficient Cleaning
Say goodbye to struggling with stubborn dirt and hard-to-reach areas. With the intense water pressure from high-pressure handheld shower heads, cleaning becomes a breeze! Whether getting rid of grime or reaching tricky spots, the powerful spray does the job quickly and effectively.
3. Relaxation and Muscle Relief
Need a little pampering? The massaging effect of high-pressure water can work wonders. These shower heads provide a soothing and relaxing experience, helping to relieve muscle tension and promote overall relaxation. It's like having your spa treatment at home!
4. Versatility at Your Fingertips
One of the most incredible things about high-pressure handheld shower heads is their versatility. You can easily detach them from their holders, allowing you to direct the water flow wherever you want. Whether you need to wash your hair, bathe your furry friend, or even clean the shower, these shower heads have covered you.
5. Water-Saving Superheroes
Don't worry about the high pressure meaning high water consumption. Many high-pressure handheld shower heads are designed to be water-efficient.
They cleverly mix air with water using features like aerators or flow restrictors, so you still get that satisfying water pressure while saving water and reducing your bills. It's a win-win situation!
Frequently Asked Questions
What is a high-pressure handheld shower head?
A high-pressure handheld shower head is a type of shower head that is designed to provide a strong water flow during showers. It is a versatile shower fixture that can be held in hand, allowing for targeted water flow and flexibility.
Are high-pressure handheld shower heads suitable for low water pressure areas?
Yes, many high-pressure handheld shower heads are specifically designed to work effectively, even in areas with low water pressure. They often incorporate technologies that optimize water flow and pressure, providing a satisfying shower experience regardless of the water pressure in your location.
Do high-pressure handheld shower heads save water?
While high-pressure handheld showerheads provide a more robust water flow, many models are designed to be water-efficient. They may feature aerators or flow restrictors that mix air with water, maintaining pressure while reducing water consumption. It's essential to check the product specifications for water-saving features before purchasing.
Can I replace my existing shower head with a high-pressure handheld shower head?
In most cases, you can replace your existing showerhead with a high-pressure handheld showerhead. Ensure the new shower head is compatible with your existing plumbing fixtures and follows the standard connection size.