If you're in search of the best showerhead for your life, I bet you come to the right place. But how am I so sure about it? The tag is enough to say: Shower Head Made In USA.
American-made showerheads are a lot different than the ones you usually use; they are made of quality material, have excellent pressure, are built to last, and whatnot.
This guide will uncover the 5 best showerheads made in the United States of America and why they should always be your topmost priority. Let's jump into it.
Related: Best Shower Heads For Dogs
Shower Head Made In USA: 5 Best American Made Shower Heads
1. Hammer Head All Metal Handheld Shower Head
Features
Flow rate: 2.5 GPM
Spray settings: Full
Made in: United States of America
Shower Head Thread Size: 1/2 inch
Hose Length: 6 Feet
Colors: 6
An Amazing Review
Are you tired of replacing your showerhead every few months because it can't hold up? Then you must check out this Hammer Head Handheld Shower Head made in the USA.
This masterpiece is built to last thanks to its solid 304 stainless steel construction. And don't even get me started on the finishing processes and laser welding that went into making this thing – it's top-notch.
But here's the real kicker – it's not just strong; it's also practical. You get all the pressure you need without fuss with a simple single setting. Plus, the 6 ft. long metal shower hose makes it a breeze to wash your pets or shave your legs without feeling like you're doing a workout.
And don't worry about installation – it's a breeze! You'll be up and running in no time with the included DIY instructions and videos. This showerhead is about function over form, but it still looks sleek and stylish in your bathroom.
Benefits
The Hammer Head Shower Head is made in the USA, so there is no need to question its durability and performance.
You can enjoy high water pressure and excellent coverage for an invigorating shower experience with a single setting.
The 6 ft. long metal shower hose provide maximum room and covers all part of the body.
It is easy to install, so you can have it up and running quickly with minimal effort.
Drawbacks
It offers only one spray setting, but it's enough, keeping other extraordinary features in mind.
2. Speakman Retro S-3015 Shower Head
Features
Flow rate: 2.5 GPM
Spray settings: Intense, Rain, Full Flood
Made in: United States of America
Shower Head Thread Size: 1/2 inch
A Detailed Review
Looking for an eco-friendly showerhead that won't let you down? Look no further than the Speakman Retro S-3015!
Made right here in the USA, this shower head is built to last with solid brass construction and a self-cleaning design that keeps it functioning like new for years to come.
The Speakman shower head boasts eight plungers that distribute water evenly and a whopping 64 sprays that can be adjusted with a simple rotating lever.
With its 360-degree technology, you can be sure that every nook and cranny of your bathroom is covered, and the diverse settings allow you to customize your water pressure to your liking.
Even if your water pressure is lower than average, the Speakman shower head delivers a powerful performance that will leave you feeling refreshed and rejuvenated.
And thanks to its self-cleaning function, you don't have to worry about hard water buildup or sediment accumulation – cleaning this shower head is a breeze!
Benefits
With 8 plungers and 64 sprays, it delivers an even distribution of water that can be adjusted to your liking.
The 360-degree technology provides complete coverage of your bathroom.
The self-cleaning function of the Speakman Retro S-3015 prevents hard water buildup and sediment from accumulating in the shower head.
It is an eco-friendly showerhead that is made in the USA.
Drawbacks
It is all clear from the cons.
Related: Best Shower Heads With Extra Long Hose
3. Aqua Care Handheld And Rain Shower Combo
Features
Flow rate: 2.5 GPM
Spray settings: 3
Made in: United States of America
Shower Head Thread Size: 1/2 inch
Hose Length: 72 Feet
Colors: 3
A Thorough Review
Are you tired of using a showerhead that doesn't quite meet your needs? You must check out this Aqua Care 3-way shower head combo. With its adjustable arm and 8 customizable settings, you'll be able to achieve the perfect wash every time.
Plus, it comes with a handheld shower and a 6-foot hose for added convenience and flexibility. This shower head combo is highly functional and made in the USA, which means it contains no harmful chemicals or additives.
The combination of stainless steel and rigid plastic ensures that it won't rust or corrode over time, making it a long-lasting investment for your bathroom.
The best part? It lets you choose three shower settings to create your ideal bathing experience. And with its sleek design and easy mobility, it's sure to complement any bathroom decor.
Benefits
The Aqua Care 3-way shower head combo is made in the USA with stainless steel and hard plastic, ensuring it won't rust or corrode.
It has a handle for easy mobility and an adjustable arm for customized shower height.
The shower head features 8 settings and 5 different zones, allowing for a personalized wash experience.
The handheld shower can be used in the bathtub or shower, and it comes with a 6-foot hose to adjust the shower height.
Drawbacks
It contains hard plastic construction.
4. American Standard 9035254.002 Spectra Shower Head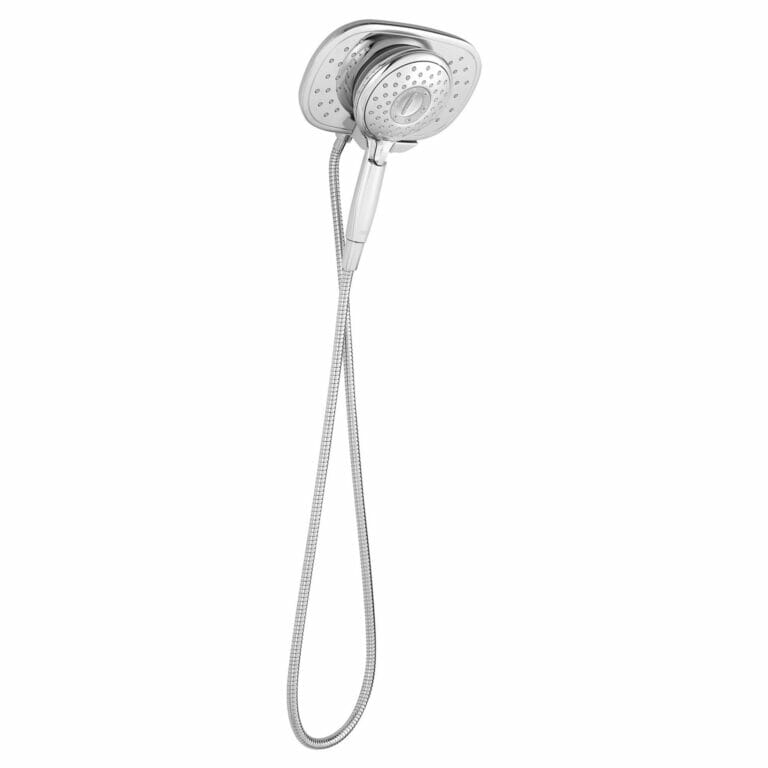 Features
Flow rate: 2.5 GPM
Spray settings: 4
Made in: United States of America
Shower Head Thread Size: 1/2 inch
Colors: 5
An Excellent Review
If you love to indulge in a luxurious shower experience, this American Standard two-in-one shower head is the perfect solution. With a sleek Dock-Tite design with secure docking and a magnetic shower head, it's effortless to operate.
And if you need a little extra space while showering, the wide-hand shower combination is just what you need. What's more, the Aqua Toggle feature on this shower head lets you switch between various spray heads, so you can choose a setting that suits your needs.
Moreover, it also features a Drench spray setting perfect for washing off after a workout or a swim. If you need a powerful spray to remove dirt and grime, the Power Wash setting is ideal. And for those who want to ensure they're squeaky clean before heading out, the sensitive spray setting is the best choice.
Furthermore, it's easy to install and can accommodate your existing shower, making installation a piece of cake.
Benefits
The Dock-Tite design with secure docking and magnetic shower head creates a hassle-free shower experience.
The Aqua Toggle feature allows you to easily switch between spray settings, making it customizable to your preference.
The wide hand shower combination provides extra space for washing, making it perfect for those who need more room.
The Drench spray is excellent for quickly washing off after exercise or swimming.
Drawbacks
No disadvantage to this shower head made in USA.
You May Also Like: Best Shower Head For Kids
5. Hammer Head Handheld and Rain Shower Combo
Features
Flow rate: 2.5 GPM
Spray settings: 3
Made in: United States of America
Shower Head Thread Size: 1/2 inch
Hose Length: 72 Feet
Colors: 3
An Amazing Review
If you're tired of wimpy shower heads that barely dribble out water, this Dual Hammer Head Shower Head is here to save the day.
This showerhead is like having your cake and eating it too! It's got all the power and performance of a rain shower head but with the convenience of a handheld shower head.
Plus, it's made from 304 stainless steel and is practically indestructible. You could probably drop this thing off a building, and it would still work like a charm.
Moreover, It's come with 3-way diverters that switch between shower head, stream, and spray so that you can customize your shower experience to your heart's content.
Another cool feature is its whopping 2.5 gallons per minute of water pressure; even the most brutal winter showers don't stand a chance. The removable sprayer lets you control how much water flows, so you can conserve water and save some cash.
Benefits
The 3-way diverters ensure to have a versatile and customizable shower experience.
This shower head is made of all metal, so it will never flake or rust, exceeding industry standards.
It delivers a powerful 2.5 gallons per minute of water pressure.
With a removable sprayer, you can customize the water flow to get the perfect shower every time.
Drawbacks
It is a little expensive compared to other products
Important Things You Need To Look For When Purchasing Shower Heads Made In USA
Below are some crucial factors you should consider while purchasing shower heads made in the United States. This will ensure you get the best product according to your demand and needs. Plus, it's good to help your local manufacturing companies by purchasing your country's made products.
Material
Do you know why most people opt for products made in the USA? This is because they believe that the American-made products they purchase would be excellent in quality and performance compared to others. And they're pretty right about it.
But still, you can't act blind when purchasing even quality products. You always have to look for some things, such as ensuring the showerhead isn't made of low-quality plastic; otherwise, you may run into issues like water staining and mold growth.
However, in that case, the best decision would be to opt for stainless steel products. They're durable and won't break easily. And, if you're looking for something that won't corrode ad rust over time, then rust-resistant material such as 304 stainless steel is the way to go.
Installation
Showerheads that are difficult to install are a real headache and consume much of your time while fixing them. So, searching for a product that offers easy installation and supports your existing shower plumbing system is imperative. This will save you the time and money you would spend hiring a plumber to do the job.
Related: How To Install A Handheld Shower Head
Water Pressure
Taking slow showers really spoils your best time in the bathroom. It makes you feel uncomfortable and, in some instances, angry too. So water pressure is something that must not be ignored while looking for the best shower heads made in the United States.
The best pressure for the showerhead is 2.5 GPM, as it comes under the law of many states in the US, and the water flow at this level is pretty cool too. Besides, if you want more pressure, the only option left is to remove the flow restrictor inside it. For that, you may need to look for showerheads with removable flow restrictors here.
Warranty
One common thing you will always find on American-made showerheads compared to their foreign counterparts is that they always have a warranty. This gives you peace of mind and the audacity to replace or repair the showerhead if it stops working as it previously did.
Place Where It Made
If you're specifically looking for showerheads made in the USA, it's hard to find because many foreign companies have made their gigantic empires in the shower industry. But not to worry, after extensive research, we successfully bring out the 5 best American-made showerheads for you that will never let you crave anything more!
Price
If you're looking for a quality product, then it's evident of expecting a higher budget as well. The same is the case of American-made showerheads, yes, they're a bit expensive, but the quality and performance they offer are worth every penny.
The primary reason behind the higher price of USA products is that they have better companies and resources than their foreign competitors. Similarly, higher wages for workers who made these excellent products are also included.
Frequently Asked Questions
What is USA shower flow rate?
In the United States, the maximum flow rate for showerheads is 2.5 gallons per minute (GPM), according to the United States Environmental Protection Agency (EPA). This standard was established in 1992 to conserve water and energy and applies to all showerheads sold in the United States. Some states may have even lower flow rate requirements, such as California, which has a maximum flow rate of 1.8 GPM for showerheads.
Are shower heads universal in US?
Yes, most shower heads in the US are universal and have ½-inch pipe threads or cuts, which are in accordance with National Pipe Thread (American) and British Standard Pipe (British) standards. This means that most wall-mounted or handheld showerheads will fit the existing plumbing. Even though there are different sizes for old faucets, it is unlikely that you will encounter any compatibility issues with modern shower heads.
Final Words
To say the least, shower heads made in USA are worth spending money on because of the excellent features they offer. We put 100% into presenting you with the best products out of hundreds. Hope you like this guide and that it helps you choose the best showerhead you want.
Thanks For Reading!